Synchrono® technology partners enable or support the company's demand-driven manufacturing systems through value-added software or specialized technical services.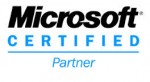 Microsoft
As a Microsoft Certified Partner, Synchrono utilizes the .NET technology framework to quickly build, deploy and manage its security-enhanced solutions. In addition, the Company uses Microsoft SQL Server as its database solution and SQL Data Transformation Services (DTS) to support integration with other enterprise applications. Additional information about Microsoft, .NET technology of Microsoft SQL can be found at www.microsoft.com.

Savigent
Savigent Software delivers highly efficient manufacturing systems and provides customers with flexible software solutions for their workflow automation, manufacturing intelligence and systems integration needs. Synchrono partners with Savigent for components of its operations management platform, to deliver an entirely demand-based and integrated operations management system.

Configure One
Synchrono has partnered with Configure One, the leading supplier of engineer/build-to-order configuration automation software, to provide seamless integration of the company's solutions. This partnership allows the entire configuration, quotation and capable-to-promise functionality to operate in real-time.

Junot Systems
Junot Systems provides integration technology and services for SAP R/3 and other enterprise systems. Synchrono has partnered with Junot Systems to integrate our SyncManufacturing application with SAP® R/3® and mySAP® using Junot Systems' patented and "Powered by SAP Netweaver" NLINK® product suite.
If you would like to learn more about the Synchrono partner program, express your interest by completing our inquiry form. We look forward to hearing from you.