In the second part of our three part series on successful implementation strategies, we discuss one of the most important project setup strategies – the RACI.
Part Two- The RACI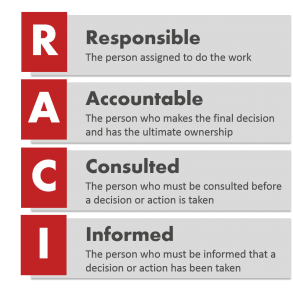 As I've mentioned before, implementation projects end up being mostly about the people involved. Project success hinges upon how effective the project team is in harnessing their own particular talents and in placing the right eyes over the right set of project deliverables to ensure quality down the line.
Last time, we talked about how to build a solid logistical framework for implementation. Next time, we'll discuss effective communications protocol. Today, we'll discuss the way to get the right people doing the right things using a RACI.
Don't Race Through Your RACI
As you may know, a RACI is a responsibility assignment matrix that defines who is responsible for all aspects of the project. (RACI stands for Responsible, Accountable, Consult, and Inform). Based on an organizational matrix from the contractor and customer companies, it tells you which people do what to deliver all aspects of a project.  So what do these four types of "project people" look like?
Responsible individuals are the people that will actually perform the work to complete a particular task or deliverable. These individuals coordinate all other team members who will have input or involvement on the task. This can include coordinating draft reviews, meetings, and sign-off to drive a task to completion.  They are also responsible for communicating and reporting on the task progress.  A good "R" assignee doesn't necessarily have all of the information required to do the task up front.  However, they should be on a logical team for the task, as well as in a project role that's a good fit for knowing the task scope and how it's going to get it completed.  Note that a project manager is not a common "R" assignment within a RACI.  The only exception is for project tasks that are strictly project management in nature.  A great example of this is the RACI itself!
Accountable individuals have a role in signing off on a particular task and considering it complete to the highest quality. To be the "A" for a task means that person is signing off on the "R" person's work.  All content and language must be sound and clear, which is also what the "A" must enforce. If referring back to any designs that turn out to be incorrect or late deliverables, the Accountable person is the team member on the hook for explaining what happened. Having Accountable team members involved throughout a deliverable's development is key to effective project work items.  Final sign-off should not be the first time an "A" is reading content, but rather an affirmation of the already reviewed material.  A proper Accountable assignment is one that has enough knowledge of the deliverable and project scope to know if something meets content quality expectations.  If an individual is at too high of a management level, they may not have enough information to know if it's been done to the proper standard.
Consulted – These individuals may be considered the Subject Matter Expert (SME) for a particular task or knowledge area. They are engaged by the Responsible team member to provide input and review deliverables for accuracy.  A Consulted person's expertise should absolutely be included before a task can be considered complete.  It is important to identify the individuals specifically and communicate timelines and time estimates of when they will be needed.  This makes sure they are available when required in order to avoid any project plan delays.  For example, an architecture guru might need weeks to promise you attendance at a crucial meeting—make sure they're on board from the very start.
Inform – These individuals will be provided status updates on a particular task or deliverable. They also may be just a user of the end product when the task is complete.  An Informed individual does not typically provide feedback back to the Responsible team member – consider this role more of a "carbon copy" or "FYI" role that is copied on particular updates throughout the process.
The act of creating a RACI demystifies project responsibilities which will help a project be a well-oiled machine down the road.  It allows people to manage their own time and workload within a project timeline since they know when and for what they are needed.  I have found that the activity of doing a RACI is just as helpful as the resulting artifact.  Make sure you have the crucial conversations about true responsibility and accountability to clear up potential confusion later in the project.
I'd love to hear about your experiences with planning RACIs. And I can't wait to talk about good communications with you in my next post. But until then, keep your RACIs –and project relationships—rockin'.
– Sarah Huhner
                                                                                                                                                                                                                                                                                                                                                                                                                                                                                                                                                                                            Sarah takes a customer-focused and results-driven approach to project management and demand-driven manufacturing systems implementation. With hundreds of projects under her belt, Sarah is fearless when it comes to challenging the status quo and delving into the details to ensure an optimal user experience. As such, her posts reflect tips and best practice advice for managing people and processes through projects – and getting the most out of your systems.