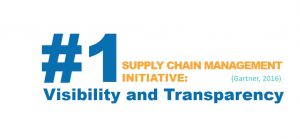 Jessica Twentyman reported in the Financial Times, that for many manufacturers, supply chain collaboration is stuck in the dark ages. When it comes to ordering materials and components, managing inventory levels, or organizing the delivery of finished goods to customers, companies are forced continually to chase business partners – mostly suppliers, logistics companies, and retailers – via a messy stream of emails, phone calls, and even faxes. Worse still, much of the data that could give manufacturers a complete, end-to-end view of their supply chain already resides within the systems of these partners; as much as 80 percent of it, according to some industry estimates.
Supply Chain Market reported the closest any manufacturer can get to the magic bullet of efficiency (collaboration) is through greater supply chain visibility. Supply chain visibility means all partners get access to – and share data – in real-time. Visibility to all orders allows suppliers to proactively respond to demand signals. Poor visibility often results in parts shortages. Frustrated manufacturers report having no idea they were down to the last box of parts. The result is expensive; using faster shipping methods to get the part back on the shop floor. A real-time view of parts on hand allows a supply chain manager to take action before there is a stock out, eliminating expedited fees.
A single – visible – version of the truth
Modern Demand-Driven Manufacturers are leveraging real-time Cloud-based visualization and collaboration systems to view data from multiple, disparate sources while keeping the data in its original, host environment. The value of these visualization systems is in their inherent flexibility. Once the data connections are made, they can be accessed and used (with appropriate permissions) at any point along the end-to-end supply chain spectrum. There is no limit to the data sources that can be connected or how the data can be sliced and diced and made visual to accommodate the different layers and levels of the manufacturing enterprise.
The result is a single – visible – version of the truth that enables a more compliant, consistent, Lean, and waste free supply chain. Visualizations can be created or configured by and for the individual user, work center, plant or multi-plant/enterprise, supplier, or customer level. Order, replenishment status, inventory levels, machine maintenance, system alerts, KPIs, logistics tracking, and more can be made accessible to the appropriate parties anytime, anywhere, providing a single source for real-time information.
Customers gain visibility into order receipt, status, and delivery data. In ETO environments, visibility tools can provide further collaboration capabilities on product specifications and requirements.
Suppliers receive real-time demand signals with the ability to exchange purchase order and projected delivery information online. Supply Chain Managers can collectively visualize and track the performance of all suppliers against their service level agreements (SLAs).
Individual users have easy access to information they can act on to analyze issues and improve performance. Customer Service representatives can follow the status of their customer's order and confirm delivery details; Operators have a clear view of priorities and an understanding of what to work on next; Quality Analysts are immediately alerted to issues and can quickly trace the source of the problem.
Work Centers can monitor all the machines in their area through a single screen to collectively determine overall equipment effectiveness (OEE) and gain insight for preventative or prescriptive maintenance.
Individual Plants can visualize real-time end-to-end production flow and the status of safety, compliance, and key performance indicators (KPI) at any level in the facility.
Regional Plant Networks can connect to Warehouse/Distribution Centers to better manage excess inventory and monitor status from Third Party Logistics (3PL) providers.
Multi-National Enterprises can connect to global data sources – including Supplier networks and Contract Manufacturers – to assess individual plant performance and collectively view and track logistics flow throughout their enterprise.
Newer Cloud technologies are more intuitive with drag-and-drop functions and natural language queries. IT is no longer saddled with pulling data and generating reports. Through self-service tools, even non-techies can perform their own analyses and create their own dashboards and visualizations.
The technology is available and the impact of such can be far-reaching. The investment quite often produces an immediate or near-term return just in avoiding costs associated with downtime, waste and expediting.
Standardizing data formats – the key to universal, real-time accessibility.
With the multitude of data sources feeding the supply chain, the visibility value is in the ability to "mash up" or bring together data from these disparate sources to tell a complete story. The strategy for doing such is standardizing – or normalizing – data. And while this is not a new concept, today there is a more efficient and cost-effective approach. Through the Cloud, data is accessed from its host environment and aggregated, analyzed, and shared by standardizing the data and making it accessible in real-time through technology tool sets like SignalR. These lighter weight, highly flexible and scalable web-enabled technologies are rapidly replacing costly hardware devices traditionally used for data standardization.
Ultimately, visibility tech

nologies should be measured by their ability to provide the right data to the right people at the right time.  The true value proposition is in having the right information to take immediate action – the decision-driving data that will make a difference in how your supply chain is performing today.
More information on this topic:
White paper: End-to-End Supply Chain Visibility Technology is Here
Video case study: How Orbital ATK is Leveraging the IIoT and Visual Factory Technology to Drive Continuous Improvements
Video: SyncView Real-time Manufacturing Visualization System – 4 minute overview