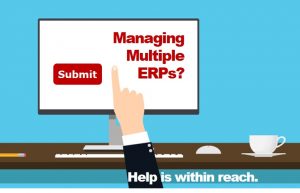 Managing operations through multiple manufacturing systems can be challenging, but it's a daily reality for many manufacturers. In this post, we'll look at the pros and cons of consolidating ERP systems – and propose an alternative.
When Two Worlds Collide
Whenever two or more organizations merge, they are almost always using different ERP systems. As anyone who's ever tried to consolidate an ERP systems knows, it's not easy.
Each organization chose their respective ERP systems for a reason. For instance, one facility might operate in a make-to-stock mode and the other in a make-to-order mode even though they manufacture the same types of products for the same customers. Addressing local regulations and business practices is another common (and good) reason for implementing one manufacturing system over another.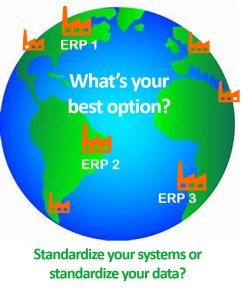 Even if their chosen system isn't perfect, the users in each facility may have learned it well enough (or customized it enough) to work around many of the application's shortcomings. I've seen people who told me they HATE their ERP system fight tooth and nail to keep it when told the organization was considering replacing their system with the same system used at corporate or at another facility.
The 3 Cons of Consolidation
The first con of consolidation is obvious – consolidating ERP systems is hard on your employees. Even those who are willing to get with the program are going to have to learn an entirely new system. That takes time and money and eats into productivity.
Then there are the real and valid reasons why facilities chose different systems. Even if the ERP system on which the company decides to standardize is flexible enough to handle multiple manufacturing modes and other unique requirements, there will still be challenges. For instance, different setup parameters and customizations may mean that the systems won't talk to each other the way you had hoped.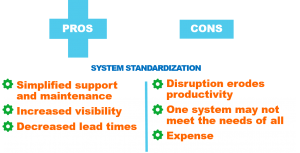 Finally, there is the expense of consolidation. ERP systems can cost hundreds of thousands to millions of dollars – just in software costs alone. Though some vendors offer ERP on a more budget friendly subscription basis in a SaaS model, the costs can still be considerable if you have a lot of users. Plus, you still have the upfront costs for things like implementation, training, customization, and so on.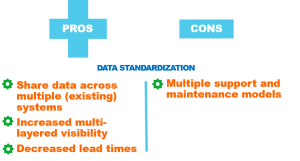 The 3 Pros of Consolidation
If a consolidation project goes as planned – and that's a big if – the company is probably hoping to gain benefits such as:
Simplified support and maintenance – Theoretically, if everyone is using the same system, user support should be easier. I don't want to discount this benefit because it's one that can be achieved, though it can take years to get there and may require functional compromises.
Increased visibility – Management wants to have a clear picture of what is happening across the enterprise. With disparate systems used in each of the facilities, getting accurate KPIs is a challenge. Getting KPIs in real time is next to impossible.
Decreased lead times – If the organization is vertically integrated, with facilities supplying each other, increased visibility into capacity and material availability across facilities should allow production managers to optimize production schedules and resource utilization. In my experience, though many ERP vendors claim to be multi-entity capable, in practice, their ability to handle cross-facility resource management varies widely.
Is it Time to Take Your Lean Initiative to the Next Level?
The Synchrono Demand-Driven Manufacturing Platform can help you achieve the consolidation benefits you're looking for plus the benefits of Lean for a fraction of the cost and without the loss of productivity and sheer chaos of an ERP consolidation initiative. Here are just a few examples:
One version of the truth – Our Platform sits on top of your ERP systems, so there is no need to rip and replace any of them. We can consolidate information from disparate systems and serve up data and insights in role-specific dashboards.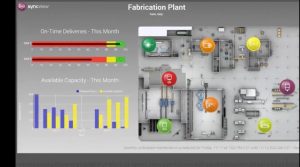 A sample dashboard from SyncView software
In the video, How Orbital ATK Enabled the IIoT and a Visual Factory, Orbital ATK's systems architect shows a graphic of all the different systems from which their Synchrono implementation pulls data.  The entire video is well worth watching, but if you just want to take a quick peek at their chart, it's at about 5:15 in the recording.
Management by exception – Trying to keep your eye on everything that is happening across facilities can drive you crazy. Our visual platform allows you to see status across your enterprise and drill down on those that require your attention, to better understand the root cause of the issue.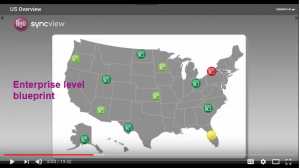 Pull-based replenishment – Demand-driven inventory management is a core principle of Lean, and our eKanban software allows you to send electronic replenishment signals across facilities. You can also bring your suppliers into your Lean initiative – and improve supplier collaboration, visibility and performance – with our supplier eKanban capabilities and supplier communication portal. Watch a demo.
Synchronize resources across facilities – Our exclusive CONLOAD™ scheduling algorithm drives production flow across facilities by controlling the release of work into production based on the availability of people, machines, materials, etc. and managing constraints using principles from the Theory of Constraints. Watch our YouTube demonstration.
Capable to promise – Because we can access and manage data across multiple enterprise systems (and machines, sensors, etc.), our capable to promise functionality provides a true picture of what can be produced and when.
Learn More
Consolidating ERP systems is such a burdensome, disruptive process, it's worth taking the time to at least consider the alternatives. In addition to the resources I've already shared throughout this post, here are a few more I think you'll find helpful:
Article: What is Demand-Driven Manufacturing?
White paper: E2E Supply Chain Visibility Technology is Here
Video: How to Synchronize Production Planning, Scheduling, and Execution